I Am Technically Challenged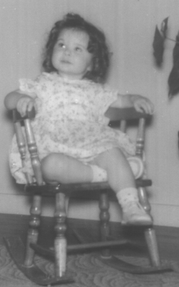 When I was little, we had a little red rocking chair that had been passed through my six older siblings. I loved that little red chair. I loved to sit and rock in it and daydream the hours away. Sometimes I would get so caught up in my thoughts that I didn't realize how fast and how far back I was rocking. More than once I tumbled that chair with me in it completely backwards onto the floor. As you have no doubt guessed, it took many a tumble before I got the hang of rocking that chair without further damage to myself or it.
General clumsiness and lack of gracefulness plagued me throughout my teenage years. Junior high school typing class was a nightmare. For the life of me, I could not get my fingers to work! I would look around in total frustration at the other girls who were seemingly pecking along with no apparent difficulty. What in heck was wrong with me? Why couldn't I achieve the same results as the rest of them who were getting good grades on their progress?
And then one day something magical happened. My brother Tim, who noticed how much I loved to pen stories, brought me a very old typewriter. This thing was a dinosaur manufactured in the 1930's. The frame was black cast iron, heavy as all getout, smelled of old machine oil, and I immediately loved it to pieces! That summer I wrote my first book on it. Okay, the book sucked. No one is a great writer at the age of thirteen. But... what was great about that experience was that I taught myself how to type in the process. Here was the secret - the magic: I was operating under no time constraints. I worked at my own pace - no pressure. (Thank you, Tim; you're still an angel to me.)
Later came the electric typewriter, an alien creature that forced me to embrace a new technology. Good God... how difficult it was to get used to the different touch of the keys, the strange new way of programming in margins and line spacings. And just when I got used to that, the semi-computerized electronic typewriters invaded the working world offices everywhere. And just when I FINALLY mastered those monsters, here came the first word processing computers!
Would it never end?
Needless to say, it took many years before I bit the bullet, and took a few night classes. I learned the process of becoming a Word Processor (as they called the person who did the typing on them back then) was not so complicated after all. I even learned to love the technology for its flexibility; it forgave me my screw-ups and even helped me fix them. No more reams of wasted paper or endless hours spent retyping edited pages. The computer and I became very good friends.
Another alien world presented itself to me with the advent of the Internet. No problemo. However, it has led me today to learning how to create my own web site. I am still learning! I am not very good at this, as you can tell by this very simple  site I've created. I need ideas. I need your input. What can I do to make this better? Please make your suggestions via the "Comment" box below.
I am technically challenged, you see.
Which is why I still have that old 1930's typewriter.
(As for that little red rocking chair, I don't know what became of it.)