To Wander is To Wonder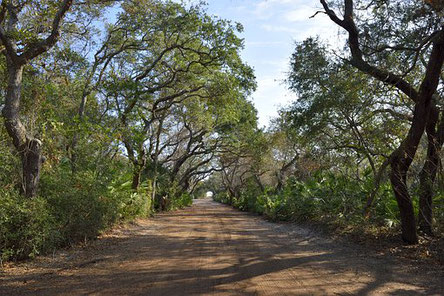 When I was a kid I loved exploring the obscure areas of countryside that had not yet been swallowed by suburbia. I could easily spend an entire day away from home. The photo above reminds me of the type of place that would draw my curiosity, a road leading to... that was the mystery I could not resist solving. Usually a road such as this led to a ranch house. Sometimes it simply led to a well-traveled paved road that led back into town. Sometimes I discovered it was in the middle of a utility property, such as the local water works or gas and electric utility. Sadly, even in the 1960's and early 1970's there were only a few scattered squares of countryside left. By the 1980's all the dirt roads I traveled had been paved over and expanded into four lanes of busy traffic lined on both sides by condos, apartment buildings, and businesses. To add to my sadness over the loss of countryside was the realization that I was driving one of those cars on one of those busy and very noisy lanes.
I wondered about my sadness over this loss. Why did I so enjoy those long ago days of wandering the local countryside? One reason was the quiet. Another reason was the delicious aromas of flora and fauna. And then there was the wildlife - no roadkill on little country lanes, no sir - all the wildlife was thriving and had no reason to hide themselves when they heard the steps of a human upon the dirt or the gravel. Those are my most prominent memories of why I loved those carefree wanderings. But there was another reason...
Imagination. To a child inclined to create her own world in order to escape the brutal reality of her real world, the isolation of the countryside was a tonic to her soul. The road in her imagination could lead to wondrous lands where children are loved, valued, and always treated with respect. There could be a secret friend here, too. A friend who understood everything and judged nothing. A friend who assured me everything would be alright in the end. Just keep walking the road, this little dirt road that led to the fulfillment of dreams and that elusive place of safety.
Where does your country road lead?